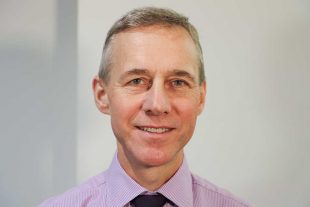 Animal Health and welfare policies are determined by the separate administrations of the four countries of the UK, with Ministers advised by their respective Chief Veterinary Officers.
There are differences because there are more factors to consider than just veterinary advice. The latest science and academic papers, there is rarely only one option with some finely balanced judgements to make, or just straightforward political differences.
But it is important that we keep our policies as consistent as possible and we work together to have a shared understanding of the welfare and disease risks and issues that we face and to ensure that the UK as a whole keeps its reputation for good standards and disease control capabilities to underpin our exports. So we meet regularly, at least monthly and often more frequently, in a variety of work settings or external events. But this blog isn't about that, as in May we got together to hike up a mountain, for a good cause, and it is worthy of a few lines.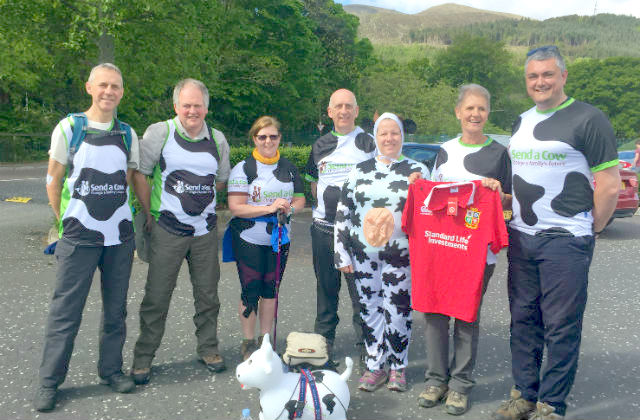 So why would we do that? It's all down to a couple of characters inspired to do some fundraising. The prime mover was Andrew Cobner, current British Cattle Veterinary Association (BCVA) President. It's the BCVA's 50th year and to mark the occasion Andrew and BCVA decided to raise £50,000 for the charity Send A Cow.
A big ask, and amongst other things Andrew committed to ride the whole way from Lands End to John O'Groats, over two weeks in May taking in some cattle practices and landmarks such as the Bristol Vet School at Langford along the way. That was successfully completed, and you can see the story on the BCVA Facebook page.
Well done Andrew, Professor David Barrett from Bristol who was with him all the way, and our own Gareth Hateley who did the four Lands End to Gloucester legs, and the whole of the ride in Scotland. Also to everyone else who joined to ride or provided support in various ways. There were many.
Andrew asked us four CVOs to join the ride, or do something else during this year to fundraise. I rode with him for the first 275 miles from Lands End to Gloucester (it was great) and Christianne Glossop organised a cross-Wales walk – two 12 hour legs over two days! But this is where the other key character comes into play, in the form of Robert Huey, CVO Northern Ireland, who thought it best to climb the highest peak in Northern Ireland. Further, that he should carry an inflatable cow and be accompanied by the CVOs of the rest of the UK and the Republic of Ireland. Strangely, we all agreed!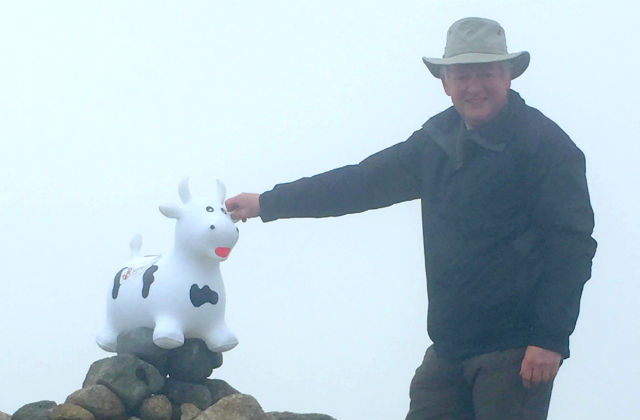 Send A Cow
Send A Cow is a great charity, built around the principle that if you provide people with initial training and ongoing support as well as aid in the form of a suitable productive animal then the outcome will be long term and sustainable for the individual and their community. Have a look at their Facebook page. It would be great if you were inspired to support them. If you do, please do so through Robert's Just Giving page.
Robert set up the fundraising page and the cow started to be pictured at the office, and to appear with Robert at events where he thought the inflatable cow could drum up donations. She also needs a name and that honour will go to a most substantial benefactor.
Going uphill
18 May found us gathered in a car park at the base of Slieve Donard, in the most glorious sunny weather. Robert, Christianne, Sheila Voas, CVO Scotland, Martin Blake, CVO Republic of Ireland, and me. We think the first time that all five of the CVOs of the British Isles have gathered together! Plus an expert guide from Robert's veterinary team with a large rucksack stuffed with emergency equipment and provisions (stuff to eat and drink) and friends, including from Send A Cow NI Branch. Robert was leaving nothing to chance; Slieve Donard is not that tall, but it is still a mountain! The pictures reveal the Cow's true nature – she is a tough inflatable of bunny hopper heritage. No ear tags as Robert decided that would have dire consequences. Note also Sheila's kit: a nylon cow onesie that she wore doggedly for the whole 6 hour trip, despite reporting that it had the same thermal characteristics and breathability as a bin liner!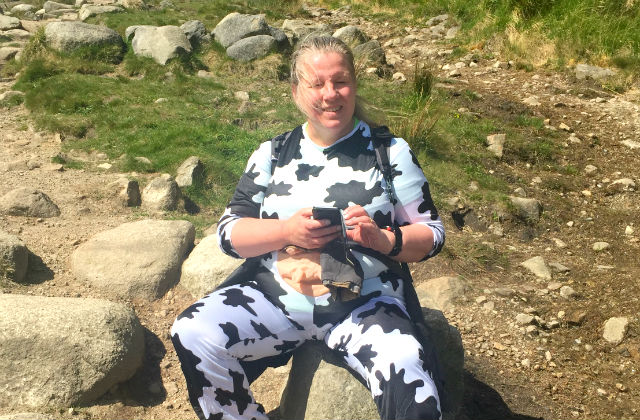 The hike itself is a game of two halves. A gently sloping ascent, first through woodland and then a more exposed rocky approach by a small stream. Really pretty, with views back down to the coast. Enjoyably accomplished, fuelled by jelly babies and Haribo equivalents. Then a turn sharply upwards, alongside a six foot or so stone wall built as a 1930s work creation project, essentially to walk up a rough stone staircase to the summit. At this point Donard decided to remind us that it is a proper mountain and the weather closed in – stiff and cold breeze and clouds scudding over us, with a light drizzle. Temperature plummeted and all our kit came out of our day packs. We got the exposure tent out to see if it worked and it did. Cow was unperturbed but our spirits were dampened and progress slowed. But we all made it. Some of those that summited early stayed warm in the exposure tent whilst the rest caught up. Some got cold. Better a hare or a tortoise?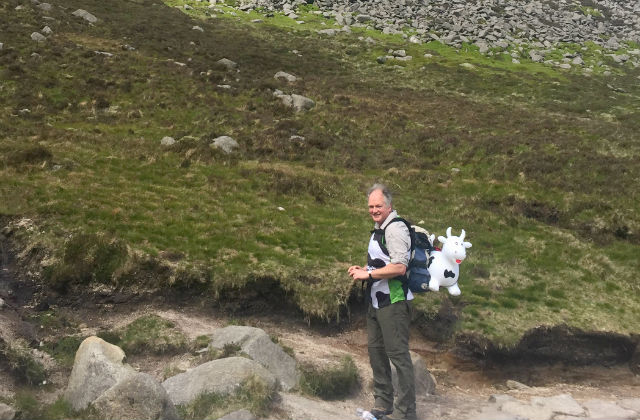 We took intrepid and atmospheric pictures of each other in the mist and more chocolate, biscuits and jellies were consumed for lunch. Cow even made it to the top of the trig point. Christianne managed to contact Andrew Cobner on Skype during his break from a Scotland leg of Lejog! Believe it or not, 4G at the top, even though no mobile signal. That's impressive rural broadband, of sorts! Then just as were about to leave the clouds broke and we were treated to the great views that we had been missing. Downhill all the way back. Murder on the quads till we were off the staircase bit. Then a lovely descent with a return to the weather that we started with.
A triumph. A mountain conquest, relationships further cemented, and Robert has gathered at least £2,500 for a great cause.