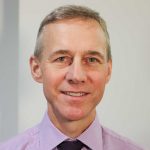 Nigel Gibbens, Chief Veterinary Officer
Professor Nigel Gibbens CBE is the UK's Chief Veterinary Officer.
He was appointed in May 2008 following previous experience in the State Veterinary Service and in policy roles on international trade, BSE controls, animal welfare and international relations co-ordination for Defra's Food and Farming Group.
Follow Nigel on Twitter @ChiefVet
A warm welcome from the Chief Vet Nigel Gibbens to the Government Veterinary Services blog.
Next year, we will celebrate the centenary of the opening of the Central Veterinary Laboratory in Weybridge. It's a great opportunity to reflect on our achievements and look ahead at our ever-changing and interesting roles, says Chief Vet Nigel Gibbens
Following outbreaks last year in France, a recent Defra assessment shows we are again vulnerable to the bluetongue virus (BTV-8 type). Vets working on farms can help us monitor livestock health and advise farmers on vaccination.