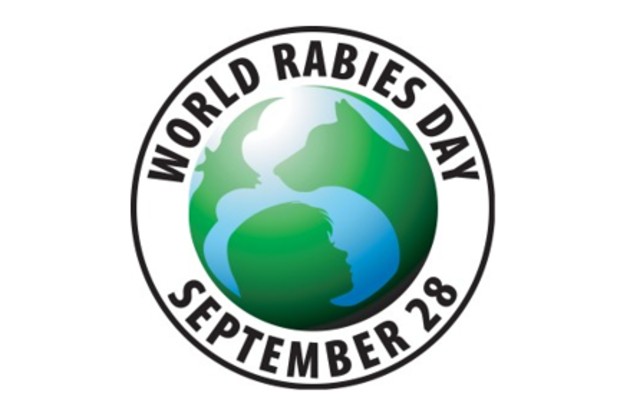 The 28 September marks the 14th World Rabies Day. This day provides an opportunity for us all to come together to share knowledge and expertise and work together to support countries and communities in dealing with this dreadful yet preventable disease.
Rabies is one of the oldest known zoonoses and is responsible for killing nearly 60,000 people worldwide each year.
By developing and implementing organised disease control strategies, countries reduce their related public health and economic burdens. Most parts of Western and Central Europe have successfully eradicated rabies, and thanks to continuous surveillance and import checks, occasional suspected rabies incursions are successfully detected and managed in wildlife, imported animals and travelling pets.
Rabies remains a major public health problem in many parts of the globe where the resources required to eradicate the disease are not as readily available.
Rabies continues to have major effects on human health, as well as having a huge effect on animal health, livelihoods and economies, with a financial burden of nearly 9 billion US dollars per year for low and middle-income countries.
Zero by 30
While a variety of animal species can host rabies, 99% of human cases result from dog bites.  A multifaceted approach is required for human rabies eradication, involving disease awareness, vaccination of at‑risk human populations and, most importantly, dog vaccination campaigns to reduce the virus reservoir.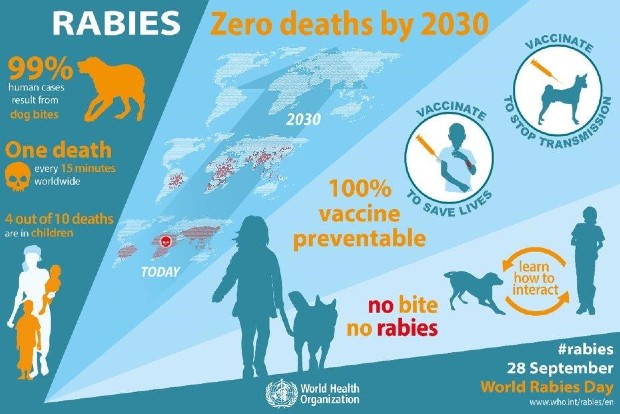 In 2015, there was a global call to action, Zero by 30, setting a goal of achieving zero human deaths from dog-mediated rabies worldwide by 2030.
In 2018, the United Against Rabies (UAR) collaboration was formed between the World Health Organisation (WHO); World Organisation for Animal Health (OIE); Food and Agriculture Organization of the United Nations (FAO) and the Global Alliance for Rabies Control (GARC); all joined forces in a combined effort to achieve the Zero by 30 target.
This 'One Health' collaboration, between international organisations representing human and animal health sectors, apply existing tools and expertise to encourage, engage and enable countries.
It is a huge step towards a coordinated and combined cross-sector effort to tackle this zoonotic disease.
United Against Rabies (UAR) Forum
The message was reinforced on 22 September 2020, when the OIE, FAO and WHO jointly hosted the virtual event, United Against Rabies: One Health in Action—Partnering for Success, announcing the instigation of the United Against Rabies Forum.
The UAR Forum provides a platform for existing contributing sectors and individuals to come together to complete the vision of the Zero by 30 Global Strategic Plan to end human deaths from dog-mediated rabies by 2030.
A link to a recording of the event, the break-out sessions, along with further information about the United Against Rabies forum can be found on the UAR Forum's website.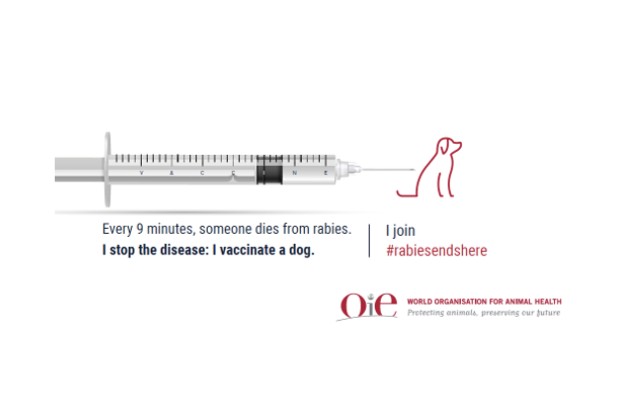 Advances, Successes and Looking Forward
Studies show that by vaccinating 70% of dogs we can eliminate rabies.
A country's health system benefits from the capacity-building required for rabies surveillance, improving the mechanisms for surveillance of other disease and expanding access to health care. Minimizing duplication and improving efficiencies, by pooling resources and developing strong health service networks, saves money and makes the most of resources.
In 2012, the OIE created the OIE Rabies Vaccine Bank and has since been providing high-quality dog vaccines, supplying over 25 million anti-rabies vaccines to countries or international organisations throughout the world.  In 2019, the vaccine bank ensured delivery of over 2 million doses to 13 countries in Africa and Asia.
The enabling of mass dog vaccination in Namibia is one example of many recent successes. UAR, in conjunction with the Namibian National Rabies Control Strategy, has provided training and vaccination for staff, dog vaccines, dog handling equipment, and educational resources. As of last year, over 350,000 dog vaccines have been delivered to regions throughout Namibia.
The charity sector also continues to complete great work.  Even amidst the COVID-19 global pandemic, the dedicated veterinarians and volunteers of Mission Rabies vaccinated approximately 80,000 dogs in Malawi in July and August as part of their annual campaign.
The WHO and OIE now recognise countries making significant gains against rabies through the OIE and WHO endorsement process. The veterinary services of individual countries can declare freedom from dog-mediated rabies as a public health problem.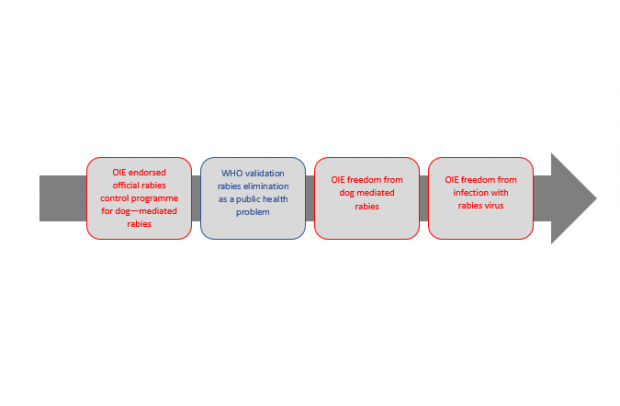 As part of this process, countries have the opportunity for their official control programmes for dog-mediated rabies to be endorsed by the OIE, eventually leading to those countries being able to self-declare freedom from dog-mediated rabies.
The first group of countries to have their control programmes endorsed will be announced at the next General Session of the World Assembly of OIE Delegates in May 2021.
Whilst COVID-19 has undoubtedly disrupted many mass dog vaccination campaigns this year, it has alerted the world to the dangers of zoonoses and has highlighted the interconnections between human and animal health.
The commitment to Zero by 30 and One Health by so many dedicated and passionate people demonstrates that with a concerted integrated effort, freedom from dog-mediated rabies by 2030 is a realistic and feasible goal.