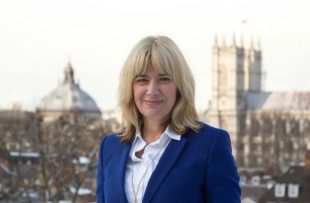 It's wonderful that we, the veterinary profession, get a World Day for people globally to recognise, reflect and celebrate the crucial contribution vets make to society all over the world.
I want to take this opportunity to share some of my thoughts with you.
For most people, highlighted by some fascinating TV programmes, 'vet' brings to mind our frontline work on diagnosis, treatment and prevention of animal disease. Usually, it's individual animals and often in harrowing circumstances for the animal's owner. However we use these essential skills, - veterinary science knowledge, complex problem solving and communication, benefit society beyond direct 'hands-on' work.
For me, the health of society is dependent on the work of vets. We contribute directly to the One Health concept. Every day vets work with medical colleagues on diseases that infect animals and people both in the UK and internationally. We also invest in working with wildlife and environmental colleagues on potential future animal and human disease challenges, aiming to be one step ahead.
With a growing global need for sustainable nutritious food resources, vets are key in providing independent expert practical advice about biosecurity in relation to animals and animal products. In developing countries where the ownership of a single cow or donkey can lift a family out of dire poverty, potentially meaning access to education and better prospects for children, the vet role is critical - providing animal healthcare to those families, villages and regions and thereby supporting them to a brighter future. In developed countries the advice, assurance and verification the profession provides from farm, through the processing chain, to a fork across the world tells us this food product is safe to eat. This assurance drives trade and contributes to sustainable resilient businesses.
We cannot provide advice and solve complex health problems without the knowledge and evidence developed by colleagues working in science and research. Their work improves our understanding of disease mechanisms, enabling the right decisions to be taken quickly to minimise animal and any related public disease impact. Animal disease is constantly changing as our environment, climate, global movements and populations change. I cannot over-emphasise how much their work contributes.
The huge globally significant AMR challenge demonstrates the breadth of our contribution.  We provide robust veterinary investigation and diagnosis of disease in the field or the surgery so antibiotics in animals are used only as little as possible but as much as necessary to protect animal welfare and health. We search for quicker and more accurate tests, develop and trial novel vaccines. We work with the farming industry on new technologies and sharing best practice on disease prevention strategies. We scan for new and emerging pathogen risks. We communicate and educate across all levels of society, individual owners to the top global decision makers. We work in partnership and collaboratively across professions and industries and with other countries.
Vets are very much multi-skilled operators delivering society's needs in protecting public health, our economy and our trade, vital across the world. I wish the profession every success.
Subscribe to the blog for email updates.