A Typical Day
I was asked to write about "My day at work" but I thought if I am to put pen to paper (or more likely tap on the keyboard) I want to write something that I would love to read myself. The moments that are staying with me despite the passing time. The unusual and amazing animals that I have met (sometimes very close and personal), animals that were different, exceptional or just very exotic. Something that makes this job so different and exciting.
I certainly hope, that I will be able to captivate you long enough to read and enjoy this blog.
As a note of caution: what I am trying to describe here (with a certain dose of difficulty) is not an everyday occurrence and does not fully represent what the team of AHOs, AOs, and Vets based here does on a daily basis. There is of course stacks of paperwork to attend to and other less glamorous tasks which, nevertheless, are done with no less diligence and dedication.
My name is Andrew Bieniek-Maluszczak, I'm a Senior Veterinary Inspector and I work for the Animal and Plant Health Agency (APHA) at the Heathrow Border Inspection Post (BIP).
Among many tasks here at Heathrow, my team checks all commercial animals (and relevant paperwork) coming into UK or transiting via Heathrow Airport from non-EU countries. Most of the days these are cats, dogs, reptiles, insects, eggs and fish. Lots of fish!!
However, from time to time we have the pleasure of getting acquainted with some very special "guests".

Hyena
We have many visitors in our office: veterinary students, APHA colleagues, various teams from Defra as well as our lab, senior management and even ministers and Lords. The most common question asked by all of them usually is: "what is the strangest animal you have seen working here?"
The answer for me must be an aardvark.
A nocturnal, African mammal that looks like a very weird pig and, trust me, smells like one too. It's got a big, piggy-like snout and completely not piggy-like long, thick tail. Its strong legs and sharp claws can apparently dig through concrete so this fully-grown adult was transported with the metal plate at the bottom of the cage. There were four more animals transported within the shipment too: three spotted hyenas and one striped hyena.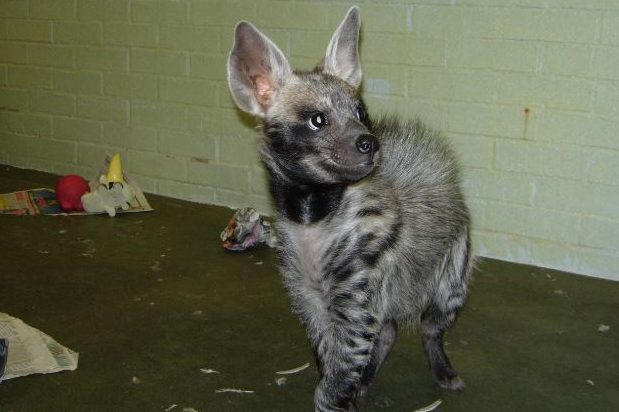 The spotted hyenas, all girls, were so young that they still required to be hand fed every couple hours. This was the main reason for stopping them from continuing their journey for the next few weeks.
This was my first encounter with spotted hyenas, and right there I had a surprise waiting for me. I had a call from the Animal Reception Center (ARC), our BIP operator. As they were feeding them and inspecting the animals for the first time, they have suggested that the animals probably had a vaginal prolapse (that means internal parts of female reproductive organs protruding outside through the opening. This was one of those rare occasions in my career when I have questioned my Veterinary degree. I have examined all three female cubs and the only thing I could think of at the time was: "what the hell?!"

I quickly chose the "call a friend" option and to my amazement I have discovered that the female reproductive organs of this species very much resemble reproductive parts of their males. Pretty much the only difference is the size, the size of the "glands" and opening. I was delighted that I didn't attempt to reposition them before I got the full picture. (Another caveat here – treatment of animals we are inspecting is not part of our job description and is carried out by private vets).
With the strangest animal and most surprising once (with reference to body parts) there was also another passenger - the most fun animal that I have met here (so far anyway) – a striped hyena. She was about 3 months old and very playful, like a young puppy. For the next 5 + weeks I spent half of my breaks playing with her. The biggest room in the ARC was transformed into a playfield to make her entertained and occupied all the time but she still preferred to play with live animals, humans in this instance. She was playing like a puppy – chasing me around the room, hiding and then jumping out to nip on my heels, trying to pull out toys from my hands and chasing the ropes. The only thing she wasn't doing was bringing the ball back.
I know this may not be everyone's cup of tea: a wild animal treated like a pet but in my defence, it wasn't of my doing and I have enjoyed every minute I've spent with her. She was wonderful.
Check back in two weeks to see the second part of Andrew's blog!