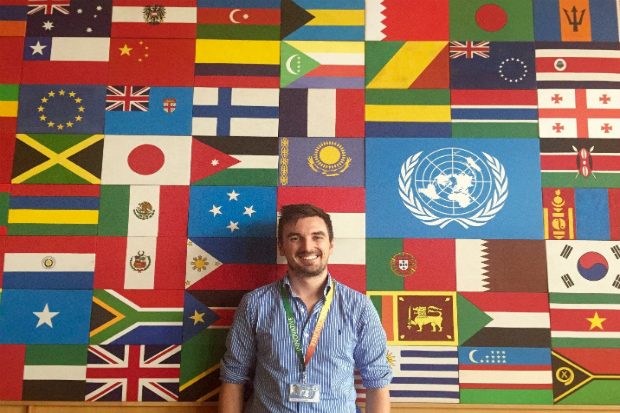 Upon graduating from the University of Glasgow's School of Veterinary Medicine in 2013, I would never have envisaged living and working as a vet in the eternal city of Rome at the Food and Agriculture Organization of the United Nations (FAO).
Following a period spent in mixed practice, I decided to join the Animal and Plant Health Agency (APHA) as a Senior Veterinary Inspector (SVI) in order to pursue a long-standing interest in exotic disease and epidemiology. Throughout my employment with APHA Scotland, I have been fortunate to have worked under supportive senior management who enabled me to realise my ambitions by allowing me to undertake roles aligned with my interests. This has included being Lead Vet for the Exotic Disease Team in Scotland, becoming a member of the Contingency Planning Team and working as a Veterinary Field Epidemiology Investigator. These roles stoked an interest in emergency preparedness and contingency planning. Consequently, thereafter I began working on a programme of simulation exercises for our team in Scotland.
After working for a year as an SVI, an opportunity arose to work on secondment as a short term Professional Animal Health Officer for the European Commission for the Control of Foot-and-Mouth Disease (EuFMD), an independent commission of FAO based in Rome. The interview itself was conducted via Skype and the team were intrigued by my professional background, particularly my work with APHA, potential contributions that I could make to the work of EuFMD and my career trajectory, interests and plans for the future. I was thrilled when I was offered the position and before long I was jumping on a plane in July 2018 to swap ''sunny" Scotland for an exciting new adventure in Rome.
Working for EuFMD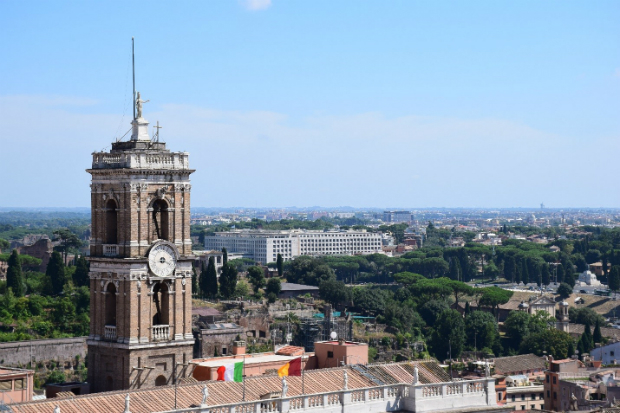 I arrived in the blistering heat of the Roman summer, but nevertheless I had to forget about getting acclimatised as I had to immediately participate in an FAO technical working group meeting, which sought to revise the Good Emergency Management Practice Guide for animal health emergencies. I found myself sitting in a room surrounded by international experts with a wealth of experience and expertise in contingency planning, all of whom were working together to achieve the common objective of making the Guide more practical in its application for countries.
It was fascinating to hear the experiences many countries have had with disease outbreaks, and there was much interest in the British experience of FMD in 2001. EuFMD had been invited to attend and share its extensive experience of assisting countries in emergency preparedness planning.
EuFMD currently has 39 member states and works under three strategic pillars, namely to:
Improve readiness for FMD crisis management by Members.
Reduce the risk to Members of an FMD incursion from the wider European neighbourhood.
Develop the global strategy of progressive control of FMD.
At EuFMD, my role was to manage the Balkans and Thrace Components of EuFMD's work plan under pillar one. With the Thrace Component, I had an overview of the established surveillance system, which seeks to maintain FMD freedom in the countries comprising the Thrace region, including Greece, Bulgaria and Turkey. Historically, the region has been a high-risk area for the introduction of FMD and other transboundary animal diseases into Europe. Part of the project involves consultants in the field performing clinical examinations of livestock and the collection of serological samples for FMD testing. My role involved processing this information using an epidemiological model that in turn would provide assuredness of FMD freedom in each of the three countries.
Regarding the Balkan countries, my role was to improve emergency preparedness and contingency planning and to prepare and run simulation FMD exercises. In the autumn, I visited five different state veterinary services in the region in two and a half weeks, to assess their emergency preparedness for FMD and to analyse ways to improve this via collaboration with EuFMD. I certainly took a lot for granted in the UK, and I quickly appreciated the scale of the challenges facing these countries. Difficulties range from limited budgets to a lack of staff and basic infrastructure. That said, I was certainly impressed with how many of these countries have managed to cope with transboundary animal disease outbreaks in the past.
I worked with three countries in the region to plan and run FMD simulation exercises. This involved setting up a small project team within each country, and through regular Skype and face-to-face meetings, we succeeded in planning country specific exercises.  In December, we ran two FMD simulation exercises in the former Yugoslav Republic of Macedonia that consisted of drills on farm testing practical skills and a desktop looking at depopulation. The 40 participants really enjoyed the exercise and it marks the beginning of a longer-term emergency preparedness training pathway for the country. In February I also assisted in the running of an exercise in Bulgaria.
What I have learned
I thoroughly enjoyed my time working for EuFMD in Rome. The assignment has given me a fascinating insight into the work of EuFMD and FAO, as well as providing me with a global perspective on international veterinary medicine. My knowledge of FMD has improved markedly and furthermore, my project management, communication and stakeholder engagement skill-sets have come on leaps and bounds. This has been especially beneficial for me as such skills are frequently neglected in favour of technical veterinary skills. Perhaps most importantly, I have built a close network of friends and colleagues in Rome, both from within EuFMD and FAO and from the wider world.
Living in Rome is not without its perks, especially when your commute to work involves walking past the magnificent Colosseum and a plethora of enticing cafés and gelateria each and every day!

How Can a Secondment Benefit You?
My Roman adventure ended in February and I've returned to the UK more motivated than ever to resume my post as a Senior Veterinary Inspector in Scotland. Career wise, I find myself standing at a fascinating (and somewhat daunting!) crossroads. That said, my Roman experience has piqued my interest and I therefore hope to explore the avenue of contingency planning and contribute to international animal health and welfare affairs.
I would recommend considering a secondment in a different role or organisation to anyone. If I could give one piece of advice it would be to dive in and just go for it and move out of your comfort zone. My experience goes to show that a degree in veterinary medicine can be the first step of a thrilling professional journey that is full of twists and turns.
I'd like to thank Dr Keith Sumption, Executive Secretary of EuFMD, and the team at EuFMD for being extremely accommodating and helping me to realise a long-term aspiration. Their guidance has left me more determined than ever to pursue my dream of working in the areas of emergency preparedness and contingency planning.  I would also like to thank APHA Scotland for allowing me the opportunity to go on this secondment.